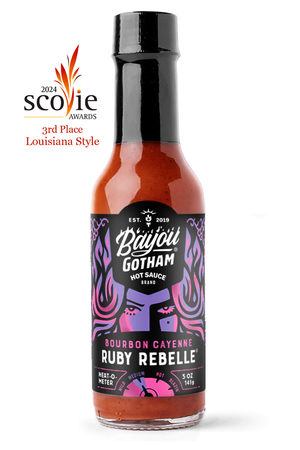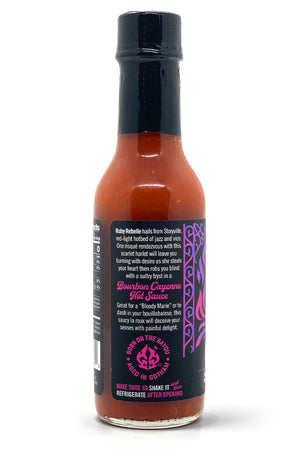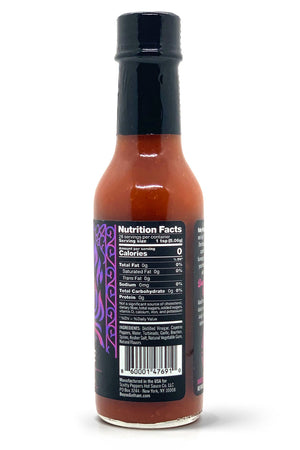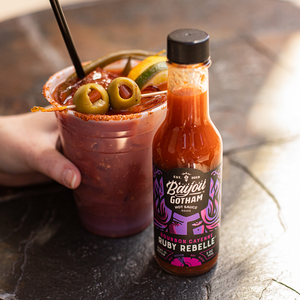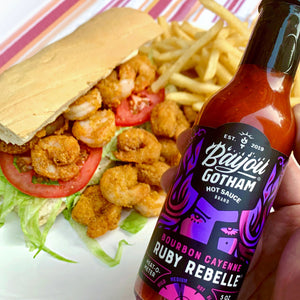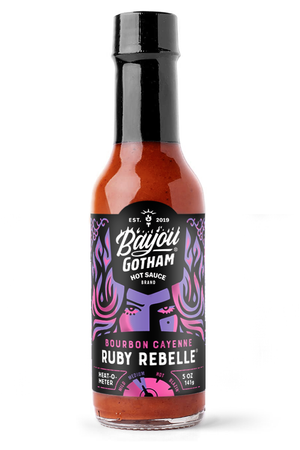 RUBY REBELLE Bourbon Cayenne
Regular price
$10.00
Sale price
$11.99
WINNER — "LOUISIANA STYLE" HOT SAUCE
2022 NYC HOT SAUCE EXPO SCREAMING MI MI AWARD
WINNER — "BEST LABEL ARTWORK"
2021 NYC HOT SAUCE EXPO SCREAMING MI MI AWARD

3rd Place — "LOUISIANA STYLE" HOT SAUCE
2024 SCOVIE AWARD (FIERY FOODS & BBQ SHOW)

Ruby Rebelle hails from Storyville, red-light hotbed of jazz and vice. One risqué rendezvous with this scarlet harlot will leave you burning with desire as she steals your heart, then robs you blind. Hot 'n' dangerous, just like New Orleans.
SAVE ON COLLECTIONS:  2 PACK  |  4 PACK
RUBY REBELLE ® is a defiant twist on classic Louisiana-style hot sauces as barrel-aged bourbon enhances the piquant flavors of cayenne peppers. Great for a "Bloody Marie" or to dash in your bouillabaisse, this saucy la roux will deceive your senses with painful delight.
Never had a hot sauce like it ever. Perfect hot without masking such an interesting blend of other flavors. I use it in empanadas, stir fry, Korean lettuce wraps.
One of the best yet!
TONS of flavor with a perfect balance of heat. I'd eat this on anything.
This bottle takes Tabasco and slaps it in the face with flavor and depth.
Right off the bat, Ruby Rebelle takes me back to Louisiana and spicy foods smelling of vinegar, cayenne, garlic, and a hint of bourbon. An initial bite of this ruby beauty brings a medium vinegar, followed by a silky sweetness from turbinado and light bourbon. Cayenne peppers at a touch of heat and flavor to the mix, ending in a mild garlic linger. Louisiana style hot sauce makes people think of Tabasco. This bottle takes Tabasco and slaps it in the face with flavor and depth. If you enjoy a vinegar forward sauce that isn't vinegar water, you will love this beauty.
The right amount of heat, and it's got FLAVOR
I use this on everything from eggs to grilled chicken. It's got a great FLAVOR and the heat does not overpower the taste. Wonderful balance. It's replaced Sriracha on my table!
AMAZING
This is one of my favorite hot sauces I've ever had. It has an amazing tang from the vinegar and has an amazing flavor behind it! This is now one of my most used and will be having to order again every few days.
Bayou Gotham hot sauces dance on the taste buds with familiar flavors that aren't always associated with hot sauce. Inspired by Louisiana traditions such as the crawfish boil, these sauces certainly bring the character of the bayou to the Big Apple.
Chef Jay Ducote
Gov't Taco, The Jay Ducote Show, Beat Bobby Flay
Awesome, delicious and visually stunning hot sauce. Being a fan of great (and bold) flavors, your sauce speaks directly to my culinary soul... thank you. You've made you yourself a fan.
Tracy
PCC Community Markets (Seattle, WA)
Bayou Bourré — How you were able to bottle that flavor is beyond me. It's so tasty and has been a huge hit at my office. You have created something truly special here.
Taylor
Flambeau Fiya — outstanding mix of taste and heat. Useful for everyday use, including chili, sandwiches, etc. It has enough heat without overpowering the taste. This is a winner! Great job on creating something different.
Ashley
Bayou Bourré is very reminiscent of the crawfish boil. I love it — a very worthy replacement for remoulade or cocktail sauce. The heat builds very nice through about 2 tbsp on boiled shrimp. You have won me over!
Will
Smoked salmon & poached egg on English is my favorite breakfast. For many years, Cholula was its constant and beloved companion. No longer. My heart now belongs to Bayou Gotham. Thank you hot sauce gods for bringing this new joy to my life.
Graham
I've tried all kinds of different sauces — all claiming to be great or whatever. I tried so many I actually considered just giving up. I guess I'm a sauce snob. Then along comes [Juju Guru] pineapple jalapeño. I don't know if you've seen "When Harry Met Sally", but there's a famous scene with Meg Ryan in the diner... yeah, it was that good. Best sauce on the market hands down. I wish they came in bigger bottles, but I'll just have to buy in bulk. Thank you for putting out such a great product.
Rick