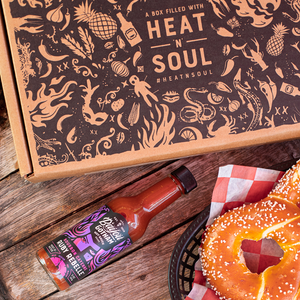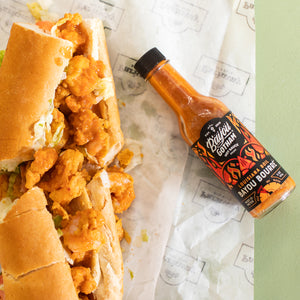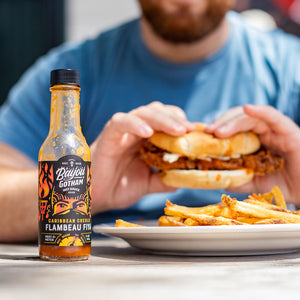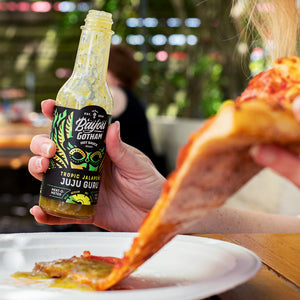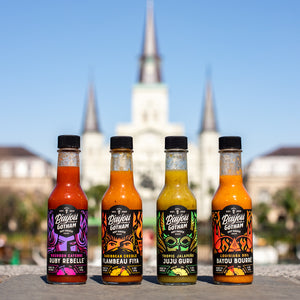 Regular price
$38.00
Sale price
$40.00
BAYOU BOURRÉ ® Louisiana Boil is a first-to-market recipe that captures the essence of a Cajun crawfish boil.

JUJU GURU ™ Tropic Jalapeño is a wildly mild elixir of green jalapeños and fresh pineapple blended with tropic tones of mojo magic.

 RUBY REBELLE ® Bourbon Cayenne is a rebellious, barrel-aged twist on traditional Louisiana-stye hot sauce.
 FLAMBEAU FIYA ™ Caribbean Creole captures the sweet heat of a Caribbean-style hot sauce celebrating one of the oldest Mardi Gras traditions.
Wow!!
I was lucky enough to receive your sauces with Boudreaux's Backyard Spices and I have to say WOW! As a southerner used to the hot sauce we get from around the area, it was fun to experiment with yours. I can't decide which we like the best. Each has it's own delicious distinct flavor. I set up a taste test with my husband and friends and they couldn't decide either on which one was their top choice. Thank you for the taste experience. I'm sharing your product info with everyone I can so they can get their sauce on too! Keep us the great work and thank you for giving us so many great sauces.
Best Hot Sauce Ever
I just wanted to say, thank you for the work of art called Juju Guru. It is by far one of the best hot sauces I have ever tried. Even though it's light heat, it packs a punch with the flavor. You can literally put it on anything. It means a lot of me saying this too considering how I have tried hundreds of other hot sauces. Ruby Rebelle is my second favorite. But to be quite frank, I could almost live off of Juju Guru. It is so good in fact that you don't even really need food, you can practically drink it.
Flavor with heat
We love all 4 of these sauces which you can tell were made for certain foods and definitely have great flavor, not just heat.
Award winning flavors!
Purchased two sets of the Bayou Collection 4-pack, one for me, one as a gift, but now doubting any will leave our kitchen!
Bayou Bourre is a Cajun crawfish boil in a bottle! Juju Guru brings the heat and flavors of the islands to every dish! Ruby Rebelle is my new go-to deep dish of pure flavor for everything! Flambeau Fiya delivers strong Caribbean notes to make even the most mundane meal explode!
Order fulfillment was done brilliantly, with updated communications from ordering to delivery! The mark of a quality company!
Bayou Gotham hot sauces dance on the taste buds with familiar flavors that aren't always associated with hot sauce. Inspired by Louisiana traditions such as the crawfish boil, these sauces certainly bring the character of the bayou to the Big Apple.
Chef Jay Ducote
Gov't Taco, The Jay Ducote Show, Beat Bobby Flay
Awesome, delicious and visually stunning hot sauce. Being a fan of great (and bold) flavors, your sauce speaks directly to my culinary soul... thank you. You've made you yourself a fan.
Tracy
PCC Community Markets (Seattle, WA)
Bayou Bourré — How you were able to bottle that flavor is beyond me. It's so tasty and has been a huge hit at my office. You have created something truly special here.
Taylor
Flambeau Fiya — outstanding mix of taste and heat. Useful for everyday use, including chili, sandwiches, etc. It has enough heat without overpowering the taste. This is a winner! Great job on creating something different.
Ashley
Bayou Bourré is very reminiscent of the crawfish boil. I love it — a very worthy replacement for remoulade or cocktail sauce. The heat builds very nice through about 2 tbsp on boiled shrimp. You have won me over!
Will
Smoked salmon & poached egg on English is my favorite breakfast. For many years, Cholula was its constant and beloved companion. No longer. My heart now belongs to Bayou Gotham. Thank you hot sauce gods for bringing this new joy to my life.
Graham
I've tried all kinds of different sauces — all claiming to be great or whatever. I tried so many I actually considered just giving up. I guess I'm a sauce snob. Then along comes [Juju Guru] pineapple jalapeño. I don't know if you've seen "When Harry Met Sally", but there's a famous scene with Meg Ryan in the diner... yeah, it was that good. Best sauce on the market hands down. I wish they came in bigger bottles, but I'll just have to buy in bulk. Thank you for putting out such a great product.
Rick