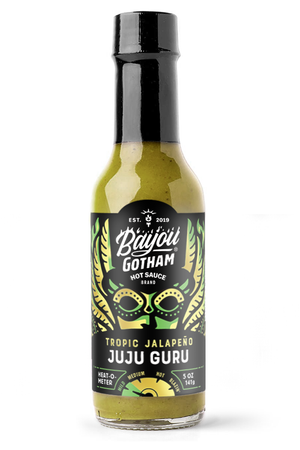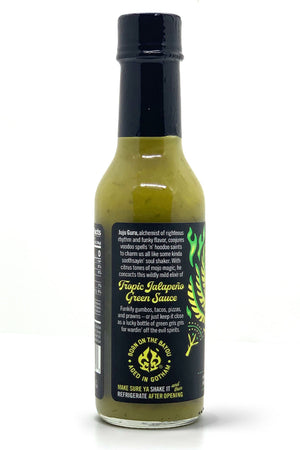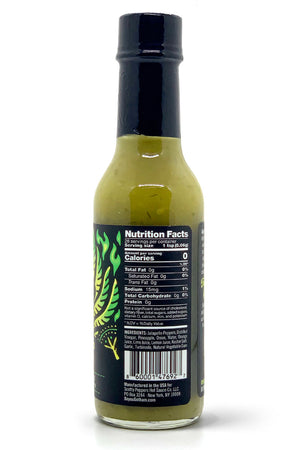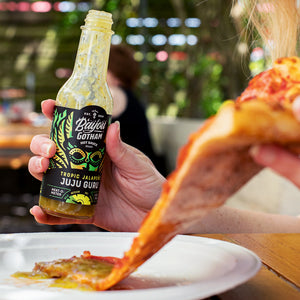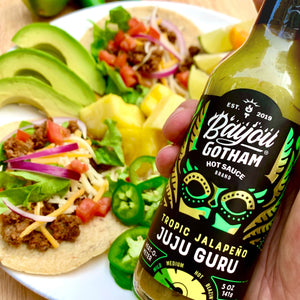 JUJU GURU Tropic Jalapeño
Regular price
$10.00
Sale price
$11.99
WINNER — BEST VERDE SAUCE
SAUCE KING NYC (2020)
Juju Guru, alchemist of righteous rhythm and funky flavor, conjures voodoo spells 'n' hoodoo saints to charm us all like some kinda soothsayin' soul shaker. 

SAVE ON COLLECTIONS:  2 PACK  |  4 PACK
JUJU GURU ™ is a wildly mild elixir of green jalapeños, fresh pineapple and citrus tones of mojo magic. Funkify gumbos, tacos, pizzas, and prawns — or just keep it close by as a lucky bottle of green gris gris for wardin' off the evil spirits.
Fantastic Sauce
Extremely tasty and versatile. My favorite aspect is that it has pineapple flavor without being a typical sweet hot sauce. 5 stars, would recommend.
Best Hot Sauce Ever
I just wanted to say, thank you for the work of art called Juju Guru. It is by far one of the best hot sauces I have ever tried. Even though it's light heat, it packs a punch with the flavor. You can literally put it on anything. It means a lot of me saying this too considering how I have tried hundreds of other hot sauces. Ruby Rebelle is my second favorite. But to be quite frank, I could almost live off of Juju Guru. It is so good in fact that you don't even really need food, you can practically drink it.
Jalapeno Love
Love this Jalapeno based sauce. It has the perfect level of kick and flavor. I just put it on my breakfast wrap this morning.....
Briny and bursting with flavor
This light green sauce smells of fruits, grass, and just a little citrus. The first bite appears salty but bright, like sea water. The grassy notes take center stage for a while, with ripe jalapeño and garlic taking the lead. Orange juice, lime, and lemon juice combine with vinegar for a very zesty finish. Think of an oyster with a spritz of lemon. This sauce is very mild, but bursting with flavor. It is fantastic on fresh and grilled vegetables, rice dishes, and chicken. If you love oysters, definitely drop some Juju Guru on them for a real treat!
Bayou Gotham hot sauces dance on the taste buds with familiar flavors that aren't always associated with hot sauce. Inspired by Louisiana traditions such as the crawfish boil, these sauces certainly bring the character of the bayou to the Big Apple.
Chef Jay Ducote
Gov't Taco, The Jay Ducote Show, Beat Bobby Flay
Awesome, delicious and visually stunning hot sauce. Being a fan of great (and bold) flavors, your sauce speaks directly to my culinary soul... thank you. You've made you yourself a fan.
Tracy
PCC Community Markets (Seattle, WA)
Bayou Bourré — How you were able to bottle that flavor is beyond me. It's so tasty and has been a huge hit at my office. You have created something truly special here.
Taylor
Flambeau Fiya — outstanding mix of taste and heat. Useful for everyday use, including chili, sandwiches, etc. It has enough heat without overpowering the taste. This is a winner! Great job on creating something different.
Ashley
Bayou Bourré is very reminiscent of the crawfish boil. I love it — a very worthy replacement for remoulade or cocktail sauce. The heat builds very nice through about 2 tbsp on boiled shrimp. You have won me over!
Will
Smoked salmon & poached egg on English is my favorite breakfast. For many years, Cholula was its constant and beloved companion. No longer. My heart now belongs to Bayou Gotham. Thank you hot sauce gods for bringing this new joy to my life.
Graham
I've tried all kinds of different sauces — all claiming to be great or whatever. I tried so many I actually considered just giving up. I guess I'm a sauce snob. Then along comes [Juju Guru] pineapple jalapeño. I don't know if you've seen "When Harry Met Sally", but there's a famous scene with Meg Ryan in the diner... yeah, it was that good. Best sauce on the market hands down. I wish they came in bigger bottles, but I'll just have to buy in bulk. Thank you for putting out such a great product.
Rick